JAZZWAY 6004 CELEBRATES 10TH ANNIVERSARY
HOUSE CONCERT VENUE IN BALTIMORE HIGHLIGHTS AND PRESERVES JAZZ


Warren Wolf and Charenee Wade Headline on June 24th
Since June of 2007, the nonprofit Jazzway 6004 has been forging a small quiet revolution in the preservation and presentation of live jazz which jazz's top magazine DownBeat recognized in 2009 as one of the finest house concert venues in the country.  Founders Howard and Marianne Katz have devoted their efforts and finances to presenting jazz concerts in their home while building and expanding new jazz audiences.  Their successful formula has yielded over 80 concerts, garnered the loyalty and admiration of many of the nation's best jazz performers and expanded the community of jazz aficionados with many sold out shows. On Saturday, June 24 at 8pm the series showcases vibraphonist Warren Wolf with his quartet to celebrate Jazzway's 10-year anniversary. Warren started off the Jazzway series in June 2007 and performs at each anniversary concert with a special guest.
Enthusiastic concert goers can expect to hear the highest quality music from present and future jazz stars, take part in a meet and greet with the artists and be treated to homemade desserts, fresh fruit and gourmet cheeses. All in the Katz's welcoming mid-century modern home in the northern Roland Park area of Baltimore.  It's like attending the best private party you've even been to – only with the caliber of jazz you'd expect to hear at the Blue Note in New York City.
House concerts have long been a vehicle for presenting folk and classical music, but jazz house concerts have been less popular.  You can find a number of these DIY venues in New York City and Los Angeles, some of them very storied, like Sista's Place in Brooklyn.  But most cities have few, if any, intimate listening rooms for jazz.
Marianne and Howard decided in 2007 that because there was a woeful lack of performance venues and opportunities in Baltimore compared with a plethora of highly talented jazz musicians, someone had to do something. The overhead cost of presenting concert series in existing venues around Baltimore was a high hurdle to overcome, so they became experts in the process of producing house concerts.
The drawback with many house concerts is that they are casual in their reservation approach. The Katz's wanted to guarantee that musicians would walk away with a decent night's pay, so they put in place a website to deliver clear information, a regular schedule and a ticket reservation system. In addition, they wanted to stress hospitality to distinguish themselves from other concert experiences so they included homemade desserts and other treats after the concert to show patrons that they are appreciated.
The June 24th anniversary concert will feature vibraphonist Warren Wolf and his quartet with pianist Mark Meadows, bassist Reginald Payne, drummer CV Dashiell and special guest vocalist Charenee Wade, who was the first runner up in the 2010 Thelonious Monk Vocal Competition. The band will perform songs from Wolf's newest recordings "Convergence" and Wade's album "Offering - The Music of Gil Scott-Heron and Brian Jackson"
WHO:                           Warren Wolf Quartet featuring Charenee Wade                                                                                                                             
WHAT:                          10-year anniversary concert at Jazzway6004
WHEN:                         Saturday, June 24th at 8:00 pm
WHERE:                       6004 Hollins Avenue
Baltimore, MD 21210
ADDITIONAL INFO:      Tickets are $18-$38. For more visit: www.jazzway6004.org or call 410.952.4528
What they are saying -
about Jazzway:
"There is NOTHING like Jazzway ANYWHERE on the east coast and probably in the US" It's an experience, not just a venue" - saxophonist and educator, Tim Warfield
"This is the most happening jazz venue in the area." Saxophonist Gary Thomas (Nov 2008)
"Thanks to you for your huge support of Baltimore's jazz scene and musicians over the years. Your efforts and generosity have been a blessing to a lot of artists and listeners and are greatly appreciated."  Bass clarinetist, composer and local activist." Todd Marcus
"Howard & Marianne, Thanks for opening Jazzway up to me again and Tia Fuller. Tia had an amazing time, she loved everything about last night, your house, the venue, the energy, the vibe, the people. She loved every moment of it. We had a great time. Until next time..."  vibraphonist, multi-instrumentalist, composer, educator, Warren Wolf Jr
"We love the atmosphere, the camaraderie and most of all the two of you. I look forward to returning as an artist, patron and friend. Keep up the great work. Peace and Blessings"…drummer, composer, educator, Eric Kennedy
Named by DownBeat in 2009 as one of the finest house concert venues in the country.
"The concert in June had a $35 ticket price, which provided compensation for artists and covered cheese spreads and desserts for the after-show mingle where folks can chat with people like Ennis, or, on this night, saxophonist Tia Fuller, who was sitting in with vibraphonist/pianist Warren Wolf's trio. Over the past three years, Jazzway 6004 has cultivated a community consisting of hardcore jazz enthusiasts and newbies who want a safe place to navigate the genre.  – Marc Hopkins, Jazz Times 2010
"One of the area's best jazz venues is tucked inside an elegant house at 6004 Hollins Avenue near Lake Roland. Jazzway 6004 hosts the likes of Carl Grubbs, Lafayette Gilchrist, Gary Thomas, Jay Clayton, Joel Holmes, and George Colligan in an intimate setting (capacity 60-65) that, in addition to the amazing music, also features home-cooked meals." - from Baltimore Magazine" 2010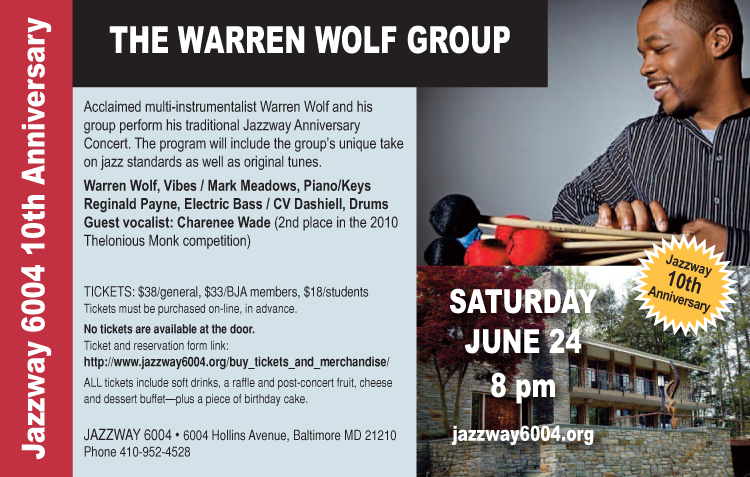 June 24th Concert
The Warren Wolf Group with special guest Charenee Wade - 8:00 PM                             6004 Hollins Ave, Baltimore, MD 21210                           ph. 410-952-4528
With Warren Wolf – vibraphone, Mark Meadows – piano, Reginald Payne – bass, CV Dashiell – drums and special guest vocalist Charenee Wade
On Saturday, June 24th at 8:00 pm, vibraphonist Warren Wolf Jr, performs Jazzway's 10th Anniversary concert with his group and special guest vocalist Charenee Wade. They'll be performing songs from each of their newest recordings, "Convergence" (Warren Wolf) and "Offering - The Music of Gil Scott-Heron and Brian Jackson" (Charenee Wade) as well and a new take on some old favorites. Charenee Wade was the 2nd place winner in the 2010 Thelonious Monk Competition. Tickets: $38-General, $33-BJA Members, $18-Students. All tickets include all soft drinks, entry in a raffle, and a desert, fruit and cheese buffet post-concert – plus a piece of birthday cake.
Website: www.jazzway6004.org
Tickets must be purchased in advanced on-line at the Jazzway website at: http://jazzway6004.org/buy_tickets_and_merchandise/
Or directly through Instant Seats at: http://www.instantseats.com/index.cfm?fuseaction=home.venue&VenueID=364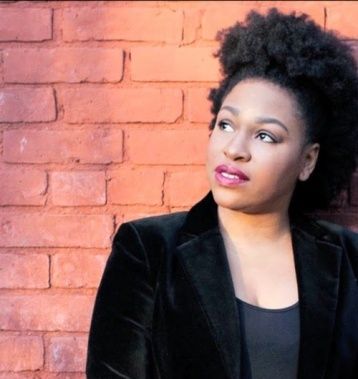 Charenee Wade                                                                                                                                        
First Runner-Up in the 2010 Thelonious Monk International Vocal Competition, Charenee Wade is a notable singer, composer, arranger and educator who received her degree from the Manhattan School of Music. Her accolades include performing her original music with Betty Carter's Jazz Ahead Program at the Kennedy Center in Washington, DC; being selected for the Dianne Reeves Young Artist Workshop at Carnegie Hall; 1st Runner-Up in the Jazzmobile Vocal Competition; and being selected for the JAS Academy Summer Sessions, 2007-09, directed by Christian McBride. Charenee is currently a professor at the Aaron Copland School of Music, City College, and works with the Jazzmobile Workshop program as an educator and competition judge. Her debut CD, Love Walked In was released in July 2010 and her second CD Offering: The Music of Gil Scott-Heron & Brian Jackson have both been highly acclaimed.
"Charenee Wade has proven that she possesses courageous talent, and is a singer whose time has come. Choosing to interpret this material was not an easy route, but in the true spirit of a jazz improviser, she absolutely made these songs her own." -  All About Jazz, (James Nadal), June 14, 2015
"A triumph of emotional empathy, intelligence and assured technique."                                                                             -- The Guardian, (John Fordham), July 2, 2015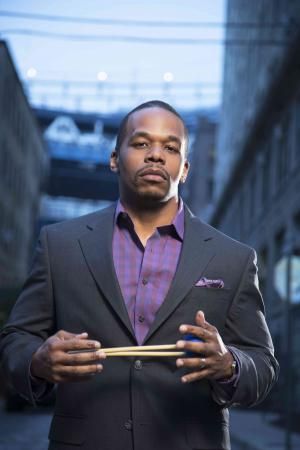 Warren Wolf  
Baltimore's Warren Wolf is an acclaimed jazz vibraphonist known for his sophisticated post-bop style. Wolf first began playing music at age three, studying vibraphone, marimba, drums, and piano with his father, a teacher and amateur musician. Focusing on classical music in his youth, Wolf attended the Peabody Preparatory School, during which time he also took lessons with former Baltimore Symphony Orchestra member Leo LePage. Warren became increasingly interested in jazz in his teens, while attending the Baltimore School for the Arts and then earned his undergraduate music degree at Berklee College of Music in Boston, studying privately with vibraphonist Dave Samuels. Also during his time at Berklee, Warren became friends with many of his future bandmates and collaborators including Jeremy Pelt, Kendrick Scott, Walter Smith III, and trumpeter Jason Palmer, with whom Wolf would co-lead a band at local club Wally's for most of his time in Boston. After graduating in 2001, Wolf worked as a percussion instructor at Berklee, but returned to Baltimore in 2005, where he quickly established himself as an in-demand performer and bandleader. As a sideman, Wolf has performed and/or recorded with such luminaries as Bobby Watson, Christian McBride, Wynton Marsalis, Christian Scott, Robert Glasper, Esperanza Spalding, and others. As a solo artist, Wolf made his debut in 2005 with the independently produced effort Incredible Jazz Vibes. He then signed with Mack Avenue Records and released his sophomore album, 2011's Warren Wolf. Two years later he returned with the quartet album Wolfgang, featuring appearances from pianist Benny Green, bassist McBride, and others. In 2016 Wolf released Convergence, featuring McBride, drummer Jeff "Tain" Watts, and pianist Brad Mehldau, as well as a guest appearance by guitarist John Scofield
 "The young vibraphonist Warren Wolf, from Baltimore, plays music that doesn't argue with the most popular and usable parts of jazz's past. It doesn't hesitate or erase its own tracks. It uses swing, blues, virtuosity, cuteness, directness and seldom wanders from a sense of tune." – Ben Ratliff, New York Times
 "Warren Wolf: one of the most influential young vibraphonists playing anywhere." -  Danny Johnson, San Diego County News